All About Atrium Manlifts
Atrium manlifts are used primarily on construction job sites, which require access to small or tight places. These compact crawlers make reaching high areas easier and safer. This type of manlift is used when a regular ladder can't help you. The atrium manlift can be used both indoors and outdoors. Some of the best uses for the atrium manlift is painting ceilings and trimming trees.Sometimes jobs require you to work at levels higher than the average person can reach. Generally, most people would opt for a ladder, however, sometimes a ladder just isn't tall enough. When the job calls for doing repairs or installations at 20 feet in the air or more, the job calls for an aerial lift.
There are several types of manlifts to choose from, from small push-around manlifts to large outdoor boom lifts. Sometimes, the job requires precision in a tight space. With compact lifting on uneven ground, the best solution is an atrium manlift.
What Is an Atrium Manlift?
JLG X600AJ
An Atrium Manlift, also known as a compact crawler, is a lift that can be used both indoors and outdoors. These spider lifts are meant to help you reach hard to get places. A few examples of using an atrium manlift are:
Their compact aerial work platforms allow you to fit into tight areas
They can reach up to 34 feet; some can reach higher
Atrium man lifts can aid in trimming trees
These lifts can help in painting ceilings
Atrium manlifts also have a 360-degree turning capacity. They have a four-wheel drive capacity, and also feature legs that extend and then lock into place for even more stability. The atrium manlift can also stand at a 40-degree gradient and remain stable while you're working. Their telescoping arm folds and they are seated on a wheeled platform for easy transport.
Size and Operating Functions
These lifts come with different operating functions. You will find some models use battery power while others may use electric or gas and diesel power.
The atrium manlift is also different than other boom or aerial lifts. Due to its size, the atrium manlift is commonly used for indoor renovations and maintenance projects during construction. Other lifts may provide a better use outdoors and in larger spaces. However, atrium manlifts are great to use in urban settings especially when space is limited.
When an atrium manlift is completely folded up, it can easily pass through doors and other narrow places. However, you must also consider that when the lift is operational, it takes up more room in the space it is used in.
When to Use an Atrium Manlift
Teupen TC69A
In construction, choosing the right tool for the job is essential. Trying to pound in a nail with a wrench may work eventually, but using a hammer is so much more efficient. The same is true of using manlifts. How does one know what type of lift to choose? With all the different options like push-around manlifts, articulated boom lifts, and scissor lifts, the choices can seem daunting. The Atrium Manlift is a great all-around lift that is perfect for a wide variety of situations.
Compact and Long Reach
The Atrium Manlift is a compact lift that's great for indoor jobs where the work may not be accessible straight overhead. Indoor floors often have weight restrictions so heavier lifts may crack the flooring materials. The lightweight Atrium Manlift can fit through a 36-inch door when collapsed. Atrium lifts can extend up to 99 feet in the air and have a horizontal reach of 22 to 47 feet, so when the job isn't directly overhead, the Atrium Lift can reach out to it.
Great On Rough Terrain
Unlike the push-around manlift, the atrium manlift doesn't require a flat surface. The articulated legs provide stability on up to a 40 percent grade incline. The atrium manlift also has the ability to rotate 360 degrees with the platform extended meaning that multiple jobs can be done without descending. Atrium manlifts are perfect for ceiling repairs, electrical work, HVAC ductwork.
Why Is Renting Better Than Buying?
Buying an atrium manlift makes sense for companies that have a steady stream of jobs that require working up high. A good rule of thumb in business is that if you bring in more revenue by owning the lift than the cost of renting, then buying is the better choice. Today's modern construction work is all about customization. The days where every building was like a cookie cutter copy are long gone. Every company wants to make its mark on the world, and so every job is unique.
Renting Versus Buying
There are also hidden costs to owning a piece of equipment. Not sure if renting or buying is the best option for you? Here are the reasons why renting is more cost-efficient in the long run.
Maintenance Costs
When you own it, you have to fix it. This includes everything from repairs to routine oil changes and hydraulic fluid.
Accessory Parts
Sometimes unique accessories are needed for a job, and might not be used again for a long time, if ever. Accessories can be expensive especially for a one-time job.
Additional Insurance Premiums
More heavy equipment means more to bond and insure.
Storage Costs
If you own it, you have to keep it somewhere. Warehousing costs can get expensive.
These are just a few of the extra costs of owning any piece of heavy equipment that goes above and beyond the sticker price. 日本毛片视频,男女做爰视频免费视频.com offers easy rentals, meaning that you always get the right size lift at a price you can afford without the added extra costs.
Popular Atrium Manlift Brands
When it comes to quality atrium manlifts, there are two big names that lead the industry: JLG and Teupen. These manufacturers both offer various models of atrium manlifts in a range of heights and with multiple options to suit any job that might be needed. Contractors and industry insiders highly rate both JLG, and Teupen lifts as both represent the best in atrium manlift technology. Each of these manufacturers represents innovation and forward thinking in the making of aerial lifts. They have shown a dedication to bringing customer-based solutions that address real-world needs.
Teupen Atrium Manlift
Teupen TL35A
Teupen was founded in 1977 by Bernd Teupen offering a broad range of furniture hoists. Throughout the 1980s, many new models of aerial platform manlifts were introduced. Teupen offers German Engineering, with North America support. In 2009 Teupen showed its commitment to international growth by building its North American Headquarters in Charlotte North Carolina. Teupen offers two main models of atrium manlifts: their Leo Series, and the Canopy Series. The Leo is built mainly for construction and maintenance needs, while the Canopy series has been specially designed to address the needs of the tree service industry.
JLG Atrium Manlift
JLG X430AJ
JLG was started in 1969 after founder John L. Grove left the successful crane manufacturing company he'd help to found after discovering a business need for a machine that could safely lift workers into the air for construction and maintenance functions. JLG likes to say that innovation never stops, and ever since 1969, they've been continuously improving on their designs and setting industry standards.
JLG atrium manlifts are meant to virtually eliminate the needs to ladders and scaffolding. JLG atrium manlifts can fit through standard doorways when collapsed, roll down narrow aisles and go almost anywhere you need them to go. Unlink vertical lifts, compact crawler lifts can climb slopes with ease because of their low-weight rubber tracks. Its versatility makes it the perfect choice for various jobs both indoor and outdoor.
Are All Lifts the Same?
Every job requires a unique solution. When tasks necessitate your workers to be lifted into the air, you have a few different options to hoist them up there.
Push Around Manlift Versus Atrium Manlift
While push-around lifts are best used for confined spaces and work that is directly overhead, atrium manlifts can handle greater heights. They have a horizontal reach and so are perfect if you need to extend the worker over an open area, and because they have stabilizing legs they can handle up to a 40 percent grade so they can work on rough terrain. Boom lifts are the big daddy of aerial lifts. They can handle bigger weights and lift higher. Articulating booms can even change position without lowering the basket.
Excellent For Indoor Work
Atrium lifts are great for indoor jobs because they are compact and lightweight. Some indoor flooring materials cant handle the weight of a full boom lift, so the atrium lift if perfect. When folded, the atrium manlift can fit through a standard doorway, and their telescoping masts allow them to fit into tight to reach spaces. The atrium lift is ideally suited to jobs like ceiling repairs, maintenance, HVAC ductwork, sign hanging and electrical work.
Best-suited For Outdoor Work
The atrium manlift is also exceptionally well-suited to outdoor jobs. The stabilizing legs allow the unit to safely operate on up to a 40% graded incline making them a rock star on rough terrain. Atrium lifts can also accommodate up to 13,200 pounds of workers, tools, and materials meaning that it can handle heavy jobs as well. The atrium lift can extend up to 163 feet into the air as well, and some models can rotate 360 degrees without having to descend the platform making them extremely versatile.
Aerial Lift Hazards
Safety is always job one on any job site. The federal agency, known as the Occupational Safety and Health Administration has conducted studies and has set guidelines for aerial lifts. OSHA studies show the number one cause of accidents on a work site is operator error.
These errors can come from lack of focus, inattention to safety protocols, or insufficient training. These accidents cause downtime, and in the worst cases fatalities. Still, accidents can happen anytime, so it's important to be aware of the potential risks involved with any type of equipment being used.
Avoiding Four Main Hazards Associated With Aerial Lifts
For atrium manlifts there various hazards workers need to be aware of. OSHA has a list of its Big Four causes of Accidents. According to OSHA, the four hazards below account for 63 percent of all fatalities on construction sites. Here is how to prepare for these hazards and prevent injury.
Avoid Accidental Falls
Appropriate safety gear is always a must. Workers should always be belted and harnessed while being lifted, and while working on aerial platforms. Workers should never belt themselves off to an adjacent pole or object. Workers should always use a body harness attached to the boom or basket to prevent being ejected or pulled from the platform.
Steer Clear To Avoid Being Hit By Falling Objects
Workers being hit by tools or materials falling from the aerial platform is a serious hazard. All workers should wear hard hats regardless of job task on the construction site. There should also always be an established and clearly marked danger zone around the lift support vehicle.
Treat All Electrical Wires As Live Wires
When working up in the air, chances are at some point you'll have to work near power lines. A minimum safe distance of 10 feet should always be maintained from the nearest overhead line. Workers should also never attempt to override electrical safety mechanisms on the equipment.
Don't Get Caught In-Between Objects
Never allow workers to position themselves in between overhead hazards, like joists and beams and the basket. Make sure workers are clear of the danger zone before the equipment is moved as well.
By controlling these Big Four Hazards, 63 percent of all accidents on the work site can be prevented, and proper training can help reduce those hazards even further.
Safety Protocols for the Atrium Lift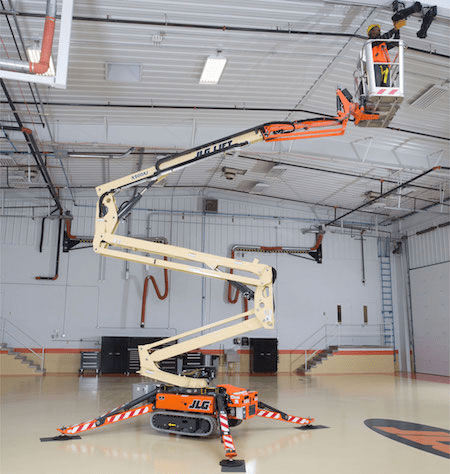 JLG X500AJ
Accidents are expensive. They cause delays and a higher materials cost as well as possible injuries to workers. Injuries during accidents are even more costly leading to insurance deductibles and sometimes lawsuits. Human error is one of the leading causes of accidents on the job site. By following proper safety procedures and protocols, the number of accidents can be dramatically reduced.
日本毛片视频,男女做爰视频免费视频 offers complete safety and operations manuals for every piece of equipment rental. Working with or on aerial lifts presents a few additional safety concerns above and beyond standard protocols on the job site.
Train and Inspect
All operators of any aerial manlift must be adequately trained. Being trained means that safety inspections of all equipment are conducted properly. Inspecting your machinery prevents crush accidents, the potential for caught in between, and electrocution accidents. All systems need to be in proper working order, and all safety mechanisms must be functioning correctly. Once the job starts, always mark the work area as a danger zone clearly to prevent people being struck by falling objects.
Follow All Safety Protocols
OSHA states that operator error is the number one cause of accidents on construction sites. One of the biggest reasons for operator error is a failure to follow proper safety procedures. It is the worker's responsibility to make sure that all protocols are followed. It is also the responsibility of the company to ensure that all operators comply with training and safety standards. Safety should always be the top priority on any job site. Accident prevention saves both the worker and the company money, job delays due to downtime, and potential lawsuits.
Certified Training for Lift Operations
Providing your workers with proper training is essential to successful on-the-job safety. Training drastically cut down on potential accidents. Most states require workers to be trained and certified before being able to operate heavy machinery.
日本毛片视频,男女做爰视频免费视频 Offers Genie Lift Pro Training Online
There are a few different ways to get licensed to operate spider lift equipment. One of the best and easiest is online through Genie Lift Pro Online Training. Genie developed a two-part program to efficiently train workers in the standardized aerial controls and safety procedures.
The first part of the program is offered through a web-based platform. This is designed to satisfy the general requirements for aerial work platform training required by ANSI, OSHA, and the CSA.
After the online portions of the training are complete, there is a 57 question exam that has to be passed to demonstrate knowledge. A hands-on familiarization from a qualified professional must be done to complete the training process.
Genie's training program is a real resource seeing as they are one of the industry leaders in lifts, so more than likely you'll run into a piece of their equipment on the job site. This program is aimed at reducing accidents and reducing repair costs due to improper operation.
OSHA Offers Online Training
OSHA also offers an online training program. This program provides a similar format to the Genie program. It begins with an online portion which is web-based to familiarize yourself and learn the controls. Afterward, there is an exam and an onsite familiarization before the trainee can be considered qualified.
Consequences Of Untrained Workers
The consequences for letting untrained workers operate machinery can be quite severe and costly. Companies can lose their bonding; insurance companies can refuse to pay claims, clients can file lawsuits, the company can lose their license, or even be dissolved altogether. It is imperative that the company ensures that anyone operating machinery on their job site is properly trained or certified.
Frequently Asked Questions
There are many questions involved when looking to rent equipment. They can range from asking if you can pick up the machinery yourself to something much simpler like "Is fuel included?" 日本毛片视频,男女做爰视频免费视频 makes it easy for you to find all the answers to your questions. Here are just a few of the most commonly asked questions our customers have.
How do I rent an atrium manlift?
You can rent directly from 日本毛片视频,男女做爰视频免费视频.com. You are also responsible for making sure all operators are properly trained.
How long can I rent an atrium manlift for?
The client offers rentals by the day, week, or month.
Can I use power tools on an atrium manlift?
The atrium manlift is large enough to accommodate a single worker and their tools. You can safely operate tools from the platform. Many of the lifts that 日本毛片视频,男女做爰视频免费视频.com offers have outlets built-in, so you can plug in your tools once you're up high and near your job.
Do I need to wear a harness when on an atrium manlift?
OSHA standards state that workers should always be harnessed and belted to the basket or boom while working.
Can I pick-up or drop off the equipment myself?
No. For your safety, and limitations posed by the companies insurance policy, their haulers must be used for all equipment deliveries and pick-ups.
Am I responsible for damages?
In most cases, yes. Incidental damage may be covered by the Damage Waiver. For complete details on our rental policies, please refer to the Terms & Conditions outlined in the provided Rental Agreement.
Of course, if you have further questions please call us at 1-888-242-4715. A friendly customer service agent is always ready to answer any of your requests.
Conclusion
No two jobs require the same skills and tools. Some jobs require specialized equipment. While others require you to work in tight spaces and heights that ladders can't reach. For indoor or outdoor jobs like installing windows, ceiling repairs, HVAC ductwork, electrical work, and various other tasks, the atrium manlift is the perfect tool for the job.
They are light enough to use on indoor flooring materials without cracking the floor, and heavy duty enough to lift up to 13,200 pounds of workers materials, and tools. They can fit through standard doorways when collapsed, and offer more stability and reach than a ladder. The lightweight rubber tracks allow you to take the atrium manlift over rougher terrain than wheeled counterparts. The stabilizing legs allow for a firm working environment even at up to a 40 percent grade. Check out the full offering of push-around, atrium, and boom lifts available on 日本毛片视频,男女做爰视频免费视频.com for more details.